jameson. friend or foe.
the night started and perhaps ended early. spots are shady in between. some of the best moments are left un-captured but their staying power is strong. a polish diner on 2nd and 7th? heaven. it was like being transported to some eastern european relatives house and being served food by gramma. love it. and the guy sitting next to us who apparently hadn't paid for his food in weeks but was promising to pay them back after this meal? well...that was interesting. no photos. just go. you will love it.
now let's talk about happy hour. first off. we are in nyc. there is a bar every other door around here, especially in the east village/lower east side which is really the only place worth going if you need a drink and a chill night out. 2-4-1, jukeboxes, trying to make up whiskey songs and watching some crazy guy sing at the parkside all in between fake ninja fighting and silliness. the real culprit of the photos that follow is my good friend jameson. now. we all know how much i love him and we all know that violence that's still somewhat hilarious usually ensues. now what needs to be put on the table and remembered for the rest of my life IS: once kim starts drinking the jameson then switches to beer she should not under any circumstance be fed more whiskey. it's like the gremlin rule. under no circumstance no matter how much i act tough or beg or ask or cajole. no. just don't do it. let this be remembered. let this be the new solution. jameson i still love you.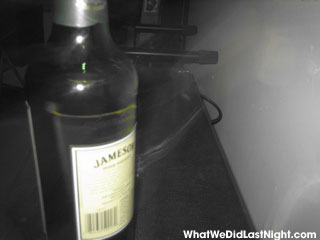 what i love more is being crowned with flowers by merideth who i fell in love with: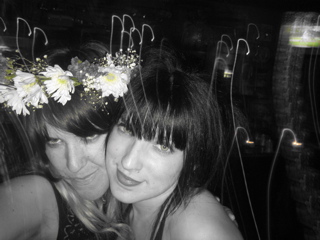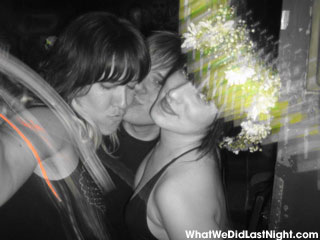 now i don't remember the name of the bar but it's on houston and they had hank williams on the jukebox and i even saw elvis: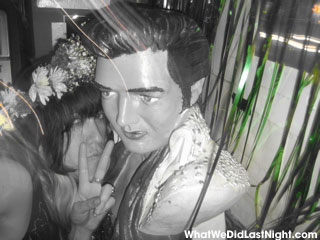 and this guy? i think i tried to include him in our fun and from the look on his face he was slightly intrigued and also scared to death. figures. i have that effect on men haha. yeah.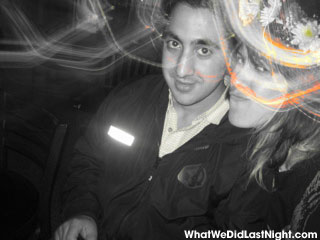 brandon is trouble. he tried to chain himself to the bar. drink whisk-wee with his tongue and he even put up with me all night. not sure how he did it but he scores some kinda extra bonus points for that one. xo.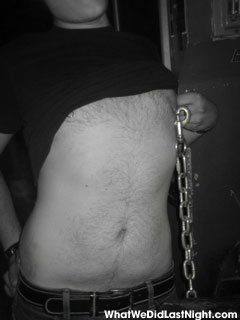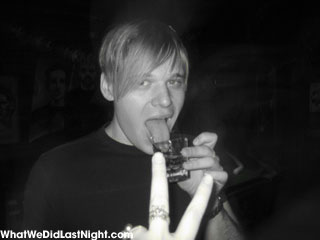 so let's recap. diner. happy hour. happy hour. happy hour. happy hour. photos. yummies. photos. happy hour. the end. almost.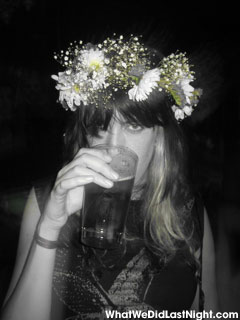 see.. i still had the subway ride home. i got to practice my french and impress the frenchies who were running AMOK on the subway interviewing people and spewing french at them while videotaping. they were pretty stoked when i started speaking to them in my broken french. hi-yah. they are just lucky i didn't try to ninja fight them. here they are:
while waiting for the a-train i had to hide from the metal minions that tried to follow and attack me. i just barely made it, perhaps they were just scared of my shoes?
sigh. that's all the recap for now boys and girls. it's 4pm and i am off to sit in the kitchen and noodle my guitar. abra moore at the living room tonight. coffee at the pink pony. take over the world. yadayadayada.xokg.
Labels: happy hour, jameson, lower east side, nyc