uh oh. Oh no. really...
okay. should i be scared? i couldn't wear black yesterday. not for lack of black clothing. or because it was hot. i just could not do it...i had my favorite black t-shirt in hand, was about to put it on, and then i stopped. i wanted to wear green. but alas i have no green t-shirt. so i had to go with white. something is oh so wrong. but i suppose it's not tragic...
:)
fuck the sun was beautiful yesterday. i almost blinded myself taking pictures. check it out though...this is on the way to mulberry street: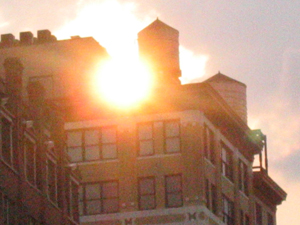 who needs closets??? not ME!!! i rearranged the bins that belong to ellen (it's her apartment i'm staying in) and made a makeshift dresser. beauty. everything has a home, even if it's an odd one. i have a small alter on my bathtub and my shoes go under the tub/kitchen sink...speaking of which. the sink is really my favorite thing, an invention of beauty really. especially when you only have ONE in the apartment. what is it used for? lovingly does it give me water for my morning coffee. happily does it clean my fruit and veggies before eating them. with jubilance do i brush my teeth and wash my face in the am and pm and with unexpected vigor do i wash my city dirtied feet every evening before slipping them into my china-town-new red slippers. who knew a sink would be so very loved?? i know i keep promising pictures of my place to many of you. they are coming...honest. i'm trying to keep you interested. tomorrow perhaps.
tuesday night i went to arlene's grocery. now, for those of you that don't know, i have a small (did i really say SMALL!) obsession with the clubs/venues in nyc. for um, a reason that i don't want to disclose. if you don't know, then, sorry...so i have a framed picture of arlene's grocery, i've had it for years along with pic of other places such as sin-e, the living room and the mercury lounge...and to be able to walk 35 seconds to this club brings me such joy i'm not even sure that it is real :)
anyway; i went to check out this band called manifold. i had talked to them many times when i lived in sf and was into booking. i never did book them but they did play a show with my boys four minute mile (www.fourminutemile.net) back at kimo's many months ago. it's always a kick to see bands i know playing so far away from home (they are from arizona). in any case, i was glad to be there and support them for their first nyc show, though they seemed a bit dismayed at the late night show that was pretty much empty...but here's a pic at least...
in more exciting news. shit, i saw katell keineg last night. this woman has a voice to start fires with. etheral and folky, she exuded an aura of dry ice. she seemed fully in her element, connecting with the audience with long stares and howls and high pitched tones that licked your skin. she even sang some traditional irish song for her recently deceased grandfather. yeah, and i cried. but it was goddamned beautiful. you should really investigate this woman if you are into that kinda thing. guitar playing nothing but some simple strumming arrangements, but the voice, the voice the voice....yes!
here she is:
okay have i ranted enough yet?
i enabled comments so now you can write me obscene messages and bring your piece of bread to the table
i really should be off to drink more coffee and play guitar and try to find out where to go equipment shopping in this city. i really want to buy a bassssssssssssssss. grrrrrrrrrrr. rargh rargh rargh.
okay bellas. be good. to your self and others if you feel like it.
:)
xo
kim
ps
oh yeah one more thing! in keeping with my love of social commentary graffiti...check out this great wall art. thought you would love this